Bravo series tubular battery
Easy Maintenance, long life!
Bravo battery is manufactured using cutting-edge technology and premium grade raw materials at our in-house well-equipped manufacturing unit. It is made with JTB Technology to handle high surge current of loads. The offered battery is a programmable battery.
Available Range: 170 AH
Salient Features of Bravo series tubular battery:-
Low self discharge
Long cycle life
Superior high rate discharge feature
Level indicator for easy maintenance
Bravo 220Ah
Saver Series tubular battery
Saver Tubular Battery
Durable & compatible in all ways!
Made with Hi-Power Selenium technology which makes it almost self-sustainable battery (Low maintenance) and more durable (Low self-discharge current). All of smartens batteries are solar panel compatible. It protects you from the suffering of buying a new battery whenever you wish to switch to solar.
Available Range: 170 AH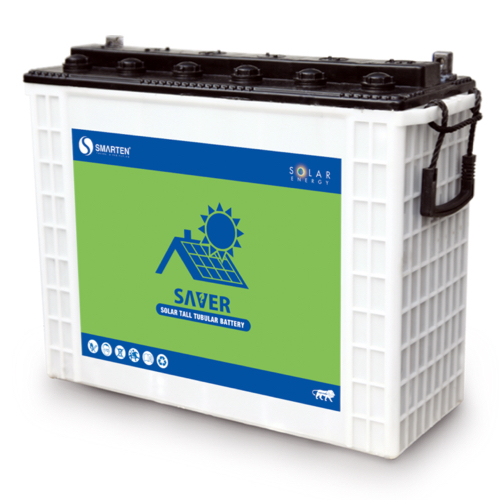 Saver Battery
SMF (Sealed Maintenance Free) battery
Maintenance-free completely sealed batteries in which there's no need to add water so
these batteries are Eco – friendly.  These are leak-proofed and does not damage the flooring by leakage of battery acid or water. The electrolyte utilized is a part of the type of gel that fills in the plates. Emits no gas or fumes so it can be placed near to the UPS or any other electronic system, which saves the transmission loss and will lower the cost of wires from UPS to Batteries.
Available Range: Smarten SP SP12V 7.2Ah-200Ah
Salient Features of SMF battery:-
High purity Material ensuring low self- discharge
Solar application Compatible
Completely leak proof
High Impact ABS casing
SMF Battery with deep discharge features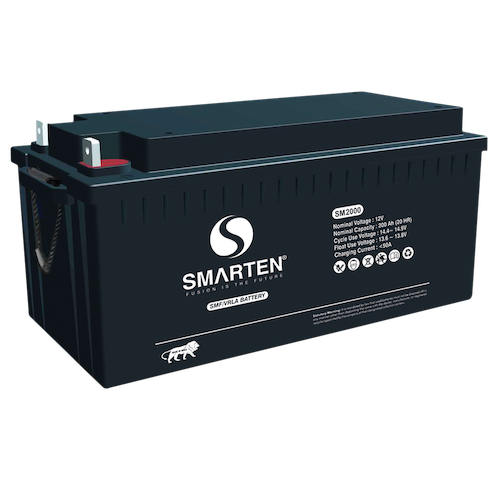 Smarten SP SP12V 7.2Ah-200Ah